A range of high-speed timber-frame build solutions
At Walker Timber Engineering we design, manufacture and supply all timber frame components entirely from our own in-house resources. Because we control all aspects of production, we can deliver consistent production quality and a fully managed production and delivery service for our clients, at scale. We can also manage the on-site erection of the frames we supply.
Our timber frame products meet MHCLG MMC Category 2 criteria.
Our timber-frame technology delivers more accurately finished structures, provides acoustic insulation performance that surpasses regulations, and offers exceptional air-tightness.
Our off-site timber frame production process delivers significant pre-manufactured value (PMV). This translates into large waste savings and many other environmental benefits
Thermatech
ThermaTech factory pre insulated wall system offers savings in waste, time and site processes. This option is available for external walls and benefits from factory fitted quality and higher levels of assured fabric performance.
ThermaTech conforms with the MHCLG Modern Methods of Construction (MMC) definition framework as a Category 2 primary structural system.
As early pioneers of off-site construction, we have over 50 years of experience in timber frame manufacturing. We produced our first factory-built house back in 1969, and now have capacity to manufacture in excess of 6,000 units per annum from two strategically located UK factories.
Key Benefits versus Masonry Construction
Much improved speed of build.
Significant reductions in preliminary costs.
Factory controlled structural build quality.
Factory controlled quality of workmanship.
Highly sustainable materials with minimal carbon impact.
Overcomes on-site skill and labour shortages.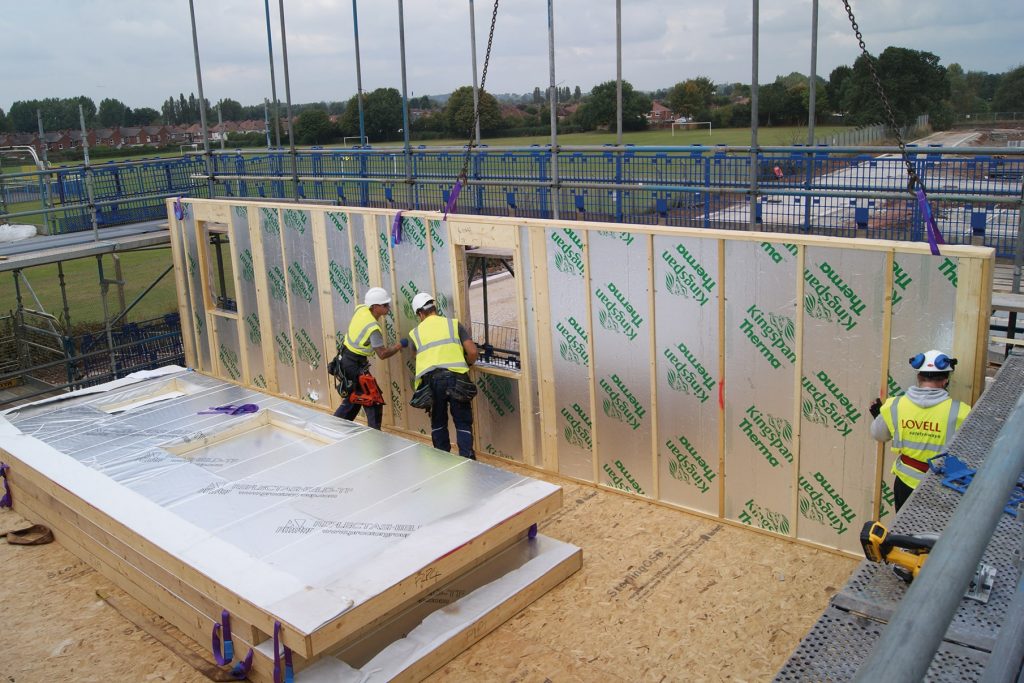 WHY CHOOSE WALKER TIMBER ENGINEERING?
Full in-house capabilities
At Walker Timber Engineering we design, manufacture and supply a comprehensive range of timber frame components entirely using our own in-house resources.
Exceptional quality
Our in-house capabilities allow us to produce pre-manufactured housing reliably and to strict quality control parameters, without any dependence on other third-party producers.
Client-focused logistics
Our in-house customer service and haulage teams liaise closely with our clients to organise their call-off deliveries, direct to site.
Fast construction
Our highly experienced team of contract managers work in conjunction with our STA-accredited erector squads to crane and erect our timber frame kits on site before final quality checks and handovers.
Please contact Tom Fairlie, our Sales Director to discuss your timber frame requirements in further detail.