A range of cost-effective, factory-produced roofing solutions
We specialise in providing housebuilders and contractors with cost-effective roof truss solutions, which reduce costs and build times without compromising on structural quality. Our roof trusses are all manufactured in-house using TR26 timber sourced from legal and responsible sources (as verified by our PEFC™ accreditation).
We are experts at converting architectural designs into structurally engineered roof truss packages that are delivered to site for our customers on a just-in-time basis.
We also manufacture and supply pre-assembled spandrel panels, which are factory built, offering a fast and effective prefabricated alternative to building blockwork party walls and external gables on site.
We have supplied roof trusses to both masonry and timber frame built housing projects for over 50 years. After producing our first batch in 1969 we are now one of the largest truss manufacturers in the UK, accredited by both the STA and TRA.
Key Technical Specification
Designed to EC5 (Euro Code) or British Building Standards.
Designed and manufactured to bespoke and exact customer specifications.
Manufactured using sustainable, TR26 strength graded timber.
UKCA marked.
PEFC™ certified.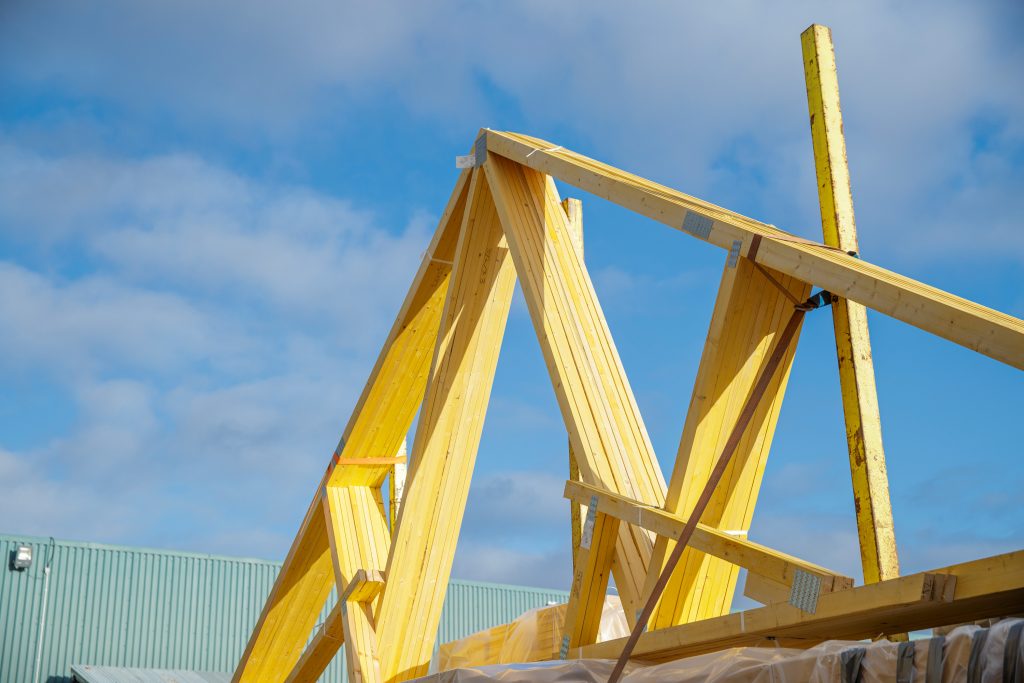 Why choose Walker Timber Engineering?
Large capacity
As a MiTek systems fabricator, we have significant production capacity and can produce over 2,500 roof trusses per week across two strategically located UK factories.
Comprehensive service
We offer a comprehensive package that incorporates design, manufacture, and transport and is inclusive of ancillary timbers.
Expert designers
Our dedicated in-house team of technical roof designers utilise the latest MiTek PAMIR software.
High accuracy, low cost
As our roof trusses are manufactured in a factory-controlled environment to exact design specifications, they cost efficient – using around half of the timber required to build a traditional-cut roof in situ.
Complementary spandrel system
Our spandrel panels effectively remove the need for a masonry wall at roof level whilst satisfying sound and fire requirements for building regulations. They are produced to meet exact specifications provided by our customers. Designed and manufactured to complement our roof truss service, our spandrel panels create a highly efficient, tailored build solution that can be installed quickly and significantly speed up the progress of a build.
Please contact our sales team to discuss to discuss your roof truss and spandrel panel requirements in further detail.